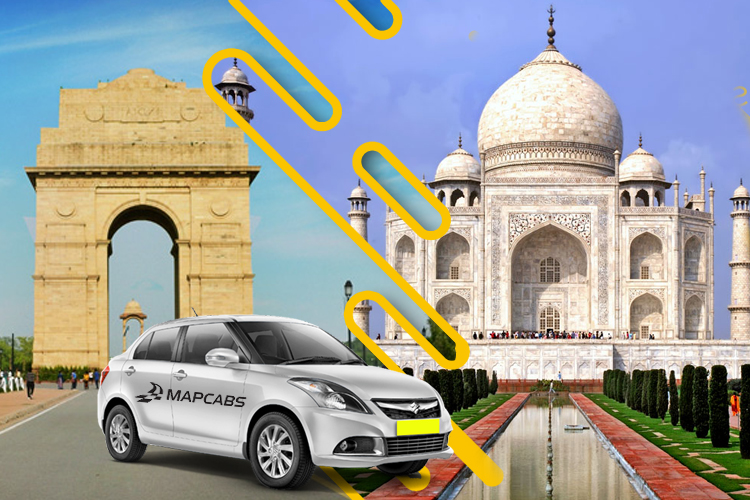 Delhi is the capital city of India and is one of the busiest metro cities in the country. Owing to it's growing working population people in the city during weekends often look for getaways. One of the popular destinations for a getaway for the people in Delhi is Agra.
Agra is one of the cities in India that has experienced the Magical touch of the Mughals and the city boasts of a legacy and architectural genius by the Mughal empire. The city has several living legends left behind by the Mughals like the Taj Mahal, Agra Fort, Itimad-Ud-Daulah, Mehtab Bagh, Sikandra Fort, Jehangir's Palace, Khas Mahal.
So basically, you can opt for a flight from Delhi to Agra, but the real fun is on the roads as the route from Delhi to Agra has a few highlights that cannot be missed. It is approx. 217 km journey when you book Delhi Outstation Cabs and a popular route to take is the Taj Express Highway/Yamuna Expressway.
Mathura is a must visit on the way to Agra. It is located around 150 km from Delhi and is the birthplace of Lord Krishna. Do visit Shri Krishna Janambhumi as it is believed to be Krishna's birthplace including the prison where he was born which is now on display. If you have time, do drop in at Gita Mandir and Dwarkadheesh temples as they're worth a visit. Mathura is famous for its local snacks and sweets like Kachoris, pani-puri, chaat, jalebi, and mouth-watering Gulab Jamuns!
When you take a Delhi to Agra Cab the first stop after Mathura is the Sikandra Fort. It is Emperor Akbar's tombstone and is a carved, red-ochre sandstone tomb set amidst a lush garden.
As you enter Agra, get going to one of the seven wonders of the world, the Taj Mahal. Mughal Emperor Shah Jahan built the Taj Mahal in memory of his third wife who passed away after giving birth to their fourteenth child. It's an architectural marvel!
Post this, do not miss out on visiting the Agra Fort, Jehangir's Palace, the Itimad-Ud-Daulah, the Mehtab Bagh, Khas Mahal and finally the Elephant Conservation Centre.
The city also houses some of the best culinary Indian and Mughlai cuisines and order lip-smacking delicacies to get the best out of the city. Wrap up your visit by getting your hands on some Agra Ka Petha, the to-die-for chaats and finally some awesome lassi!
To know the Delhi to Agra taxi fare go to our website and get your Delhi to Agra cab booking details. By feeding in the date of journey and time and an advance payment of just 20%, you have your ride ready to take you to Agra!