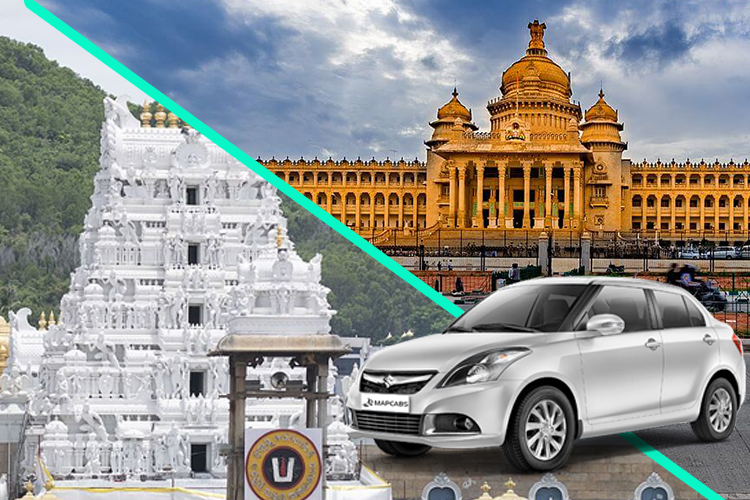 Do you want to experience a long distance journey by car from Bangalore to Tirupati? Then, this is the right time to visit Sri Venkateswara Temple at Tirupati by hiring Bangalore to Tirupati Cab. We at Mapcabs provide the best Taxi Service in Bangalore.
You can choose our Bangalore to Tirupati Cab Service @ Rs.9/km (Sedan) to make a comfortable and affordable journey within 5 hr approximately. The Old Madras Road is one of the best options for enjoying a road trip to Tirupati and you can also avoid the crowd of trucks and buses. You will get Dhabas, petrol pumps and clear signage on the way.
Sightseeing Places in Tirupati
Tirupati is one of the holiest places for Hindu pilgrimages in the state of Andhra Pradesh. We at Mapcabs have many options for car rentals to visit Tirupati. There are several sightseeing places in Tirupati and some of these are as follows.
Sri Venkateswara Temple: Located at the peak of Tirumala hill, Sri Venkateswara Temple is the richest temple in the world.
Sri Vari Museum: It is located in Tirumala. You will get information about the history of temples in Tirumala from the various artifacts, scriptures, sculptures, pictures, and photographs displayed in the museum.
Talakona Waterfalls: Falling from 270 ft height, Talakona Waterfalls is the highest waterfall in Andhra Pradesh. You can enjoy boat riding and walk on a 240 m long canopy rope.
Get the facilities offered by Mapcabs
We at Mapcabs offer several facilities to our clients when they book our outstation cabs Bangalore to Tirupati. These facilities are:
You will experience a hassle-free journey by booking our Bangalore to Tirupati Cab which is well-maintained.
We have user-friendly Mapcabs App which will help you to check the availability of our Taxi Service in Bangalore You can contact our service provider for local as well as outstation car rentals services in Bangalore.
We have an efficient driver to ensure your safety and a comfortable journey to your desired destination.
We do not charge any fees if you cancel any booking with Mapcabs before 24 hours from the scheduled time of pick up.
We offer 24/7 customer support services for any information about our services at Mapcabs.
By choosing our Sedan car for your road trip, you will get sufficient accommodation for driver and passenger in the front part and three passengers can easily relax in the second row.
So, make a booking for our Bangalore to Tirupati Cab Service at a reasonable price and choose a sedan car to experience a memorable religious tour with your family or friends.